Posted by Amy on . Leave a comment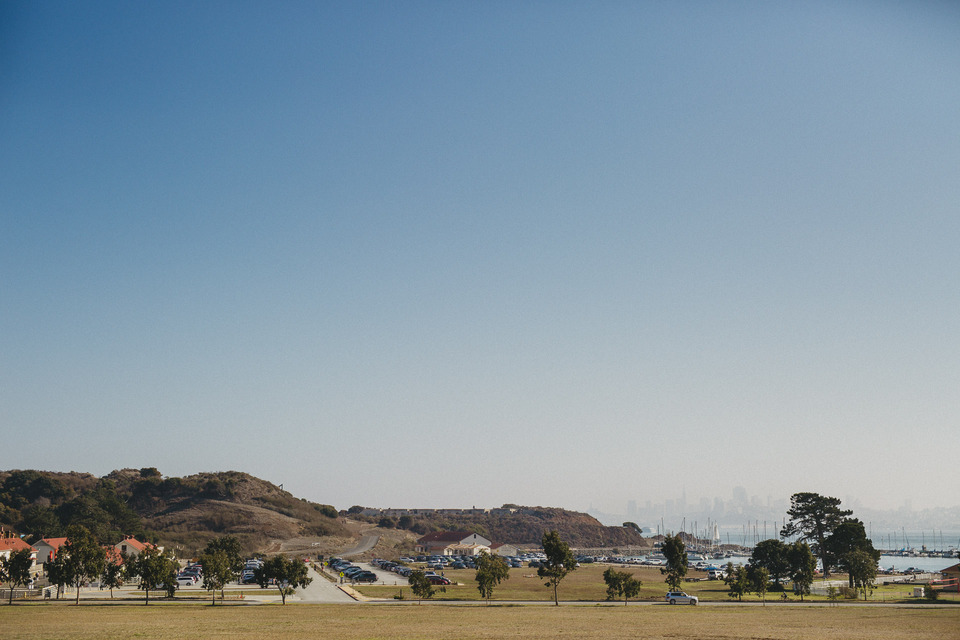 I'm obsessed with Blake and Jessica. There. I'll admit it. You might remember how adorable they were making pancakes together for their engagement session but it's their wedding that truly takes the cake. The Marin Headlands are already such a magical place to get married, but when Jess and Blake told me their wedding would be held inside a vintage military fort that is now an art center and hostel, my heart exploded. How dreamy! Headlands Center for the Arts is easily one of the coolest venues I've worked with, packed full of charm and character from every angle. Alexandra Rose Franco transformed the space with her gorgeous florals, including a stunning botanical installation hanging above the altar, a floral garland winding up the staircase, and an eclectic mix of blooms and bushy greenery in the dining hall. Guests sipped negroni cocktails that were barrel aged by the bride and groom while rocking out to the Jean Genies, a San Francisco-based David Bowie cover band.
While their wedding was undoubtedly one of the best parties I'd been to all year, what struck me most was the warmth and love radiating from each person there. Jess and Blake are both incredibly kind and generous souls who surround themselves with the very best company. By the end of the night I felt like I'd known everyone my entire life. I wish they could get married a million times so I can keep following them around with my camera, acting like a goofball. Shoutout to my incredibly talented friend Catalina Jean for road tripping down with me to second shoot! Ladies and gentlemen: the fantastic Jess and Blake!